Kickstarter is a site that allows projects to be set up for crowd-sourced funding
The EscapistsEdit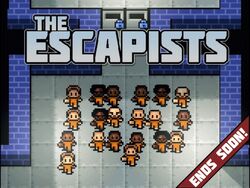 On October 26 2013, the The Escapists Kickstarter campaign was initiated.
To entice potential backers, the Kickstarter offered several rewards. Anyone backing at £5 or more will receive a digital, DRM free download of the game. Those backing above £10 would get a soundtrack download or a game artbook in PDF format. For £25 the backer would get early and regular access to preview builds during development.
Anyone backing £40 got to be/name one of the inmates. For £100 the backer got to be/name one of the prison guards.
At the top of the reward tiers, anyone who pledged £200 got to be/name one of the prison wardens in charge of each prison.
Stretch goals
Edit
After the full amount of money asked for was raised, a series of stretch goals were announced with the aim of funding ports to other platforms and adding more items to the backer rewards. Funds raised from these goals will be added to the game's budget and be used to increase its production values. Both stretch goals for the campaign were reached.
| | |
| --- | --- |
| £5,000 | Level Editor - Build your own prisons/P.O.W. camps and dish them out among your friends. Will include a section on the official game website (and possibly ingame) to list and download user created content. |
| £7,000 | Multiplayer Features - Lots of demand for this on the Steam page. I'm not quite sure what's possible with multiplayer yet (many, many ideas), but with extra funding I'll devote time to this area. |