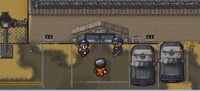 Precinct 17 is one of the maps in The Escapists 2.
Summary
A single-player only tutorial prison. Hint for The Escapists 1 users, has the original music for Shankton State Pen and the Lockdown music.
Description
This optional holding centre for wrongdoers is the perfect location to learn or indeed refresh yourself with the basics you'll need when fully incarcerated.